Gary Olsen - RIP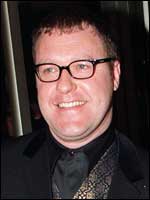 ---
He will be remembered mostly as Ben Porter, the reluctant self-employed central heating engineer in the popular BBC television sitcom, 2 Point 4 Children, although Gary Olsen continually demonstrated his comic skills in several other series on the small screen, as well as appearing frequently on stage and in feature films. He died recently in Australia at the age of only 42, after a ten-month battle against cancer.
Olsen was born in London, and lived with an uncle and aunt after losing both parents at an early age. He attended Archbishop Tenisonís Grammar School in Kennington, before joining various young peopleís theatre schemes, and subsequently toured with small theatrical companies until the seventies, when for a time he became an enthusiastic part of the burgeoning punk movement. Later, he helped develop the nostalgic seventies musical, Up on the Roof, and starred in the 1987 productions at Londonís Donmar and Apollo theatres.
There were numerous other stage roles too, and in London these included The Rocky Horror Show, Welcome Home (Royal Court Upstairs and tour), Cut and Thrust, Gorky Brigade, The Pope's Wedding, Saved Dialogues (all Royal Court), Metamorphosis, Serious Money and What the Butler Saw (both Wyndhamís) and Congreveís The Way of the World (Lyric, Hammersmith). In the latter, Olsen was acclaimed for portrayal of the embarrassingly rustic half-brother up from the country with his uninhibited animal spirits.
He also played Moey alongside Mark McGann and Jacob Abraham in Alan Bleasdaleís On the Ledge at the National Theatre in 1993 and two years later he co-starred with Maria Friedman in John Godber's comedy, April in Paris.
Olsenís film career began with the part of Liverpool rocker Rory Storm in The Birth of the Beatles (1979), and this was followed in the eighties by roles in Pink Floyd - The Wall, Loose Connections, Underworld, Party Party, The Cook, the Thief, His Wife and Her Lover, among others. More recently, he played a former Rugby League player in comedy UpíníUnder and a villain in thriller 24 Hours in London (2000).
However, it was on television that Olsen really came into his own. The Day of the Triffids (1981), led to the important role of PC Dave Litten in The Bill, and then Wilderness Road and Prospects, before the top-rated sitcom 2 Point 4 Children made him a household name from 1991 to 1999. With the help of an excellent cast, headed by Belinda Lang as his wife Bill, Olsen created a bewildered, often surreal, but extremely warm and engaging character. He was a joy to watch.
In between series, Olsen was back on the small screen in Paul Calfís Video Diary, Health and Efficiency, in which he played a senior medical registrar, and Steve Coogan's Three Fights, Two Weddings and a Funeral. Co-starring with Gwen Taylor, he played a ex-rockíníroll roadie turned transport cafe owner in Pilgrimís Rest (1997), and was a perfectly amusing Tweedle-Dum in Alice Through the Looking Glass (1999). Along the way, he made notable guest appearances in shows like The Comic Strip Presents, Boon, If You See God - Tell Him, Young Indiana Jones and Casting Couch.
Shortly before leaving Britain to live in Australia with his second wifeís family in the early part of last year Olsen took over the role of self-described joker Yvan, in the West End production of Art.
Outgoing BBC1 controller Peter Salmon called Olsen a lively and lovely man, adding: His ability to bring warmth and humour to everything he did means his loss at such an early age is even more tragic.
He is survived by his wife, and their son and daughter.
---
Back to the people...